Explosives Detection & Identification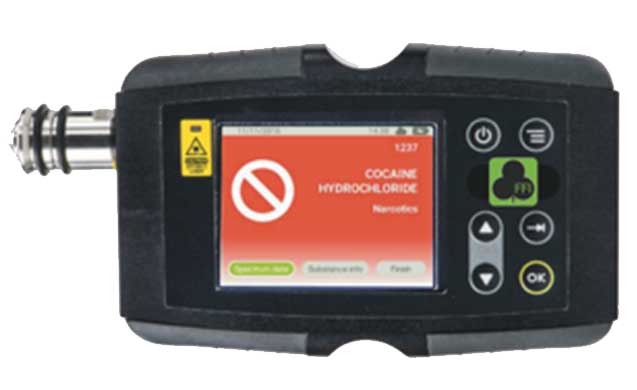 Hand-held Raman Spectroscopy
HandyRam II
™ is the latest in Raman technology that allows confident identification of narcotics in seconds using laser-based analysis. HandyRam™ fits in your pocket, runs from two AA batteries, is
IP67 – complies with MILSTD 810G
. HandyRam™ is the first true pocket-sized Raman Spectrometer that can identify thousands of compounds. Various libraries are available from
Field Forensics Inc.
Users may also create custom libraries with the included software package.
Dab or rub the suspect material or residue. Drop back into its tube and squeeze the tube. A color match indicates a positive. It couldn't be simpler. The officer-friendly DABIT™ can even be used on residue that would otherwise be almost impossible to collect if using another type of presumptive test kit – the user doesn't have to worry about gusts of wind either – DABIT™ holds the sample firmly in place until it can be tested. DABIT™ tests use chemicals (reagents) that comply with The National Institute of Justice, Standard—0605.00, Color Test Reagents/Kits for Preliminary Identification of Drugs of Abuse, developed by the Law Enforcement Standards Laboratory of the National Bureau of Standards.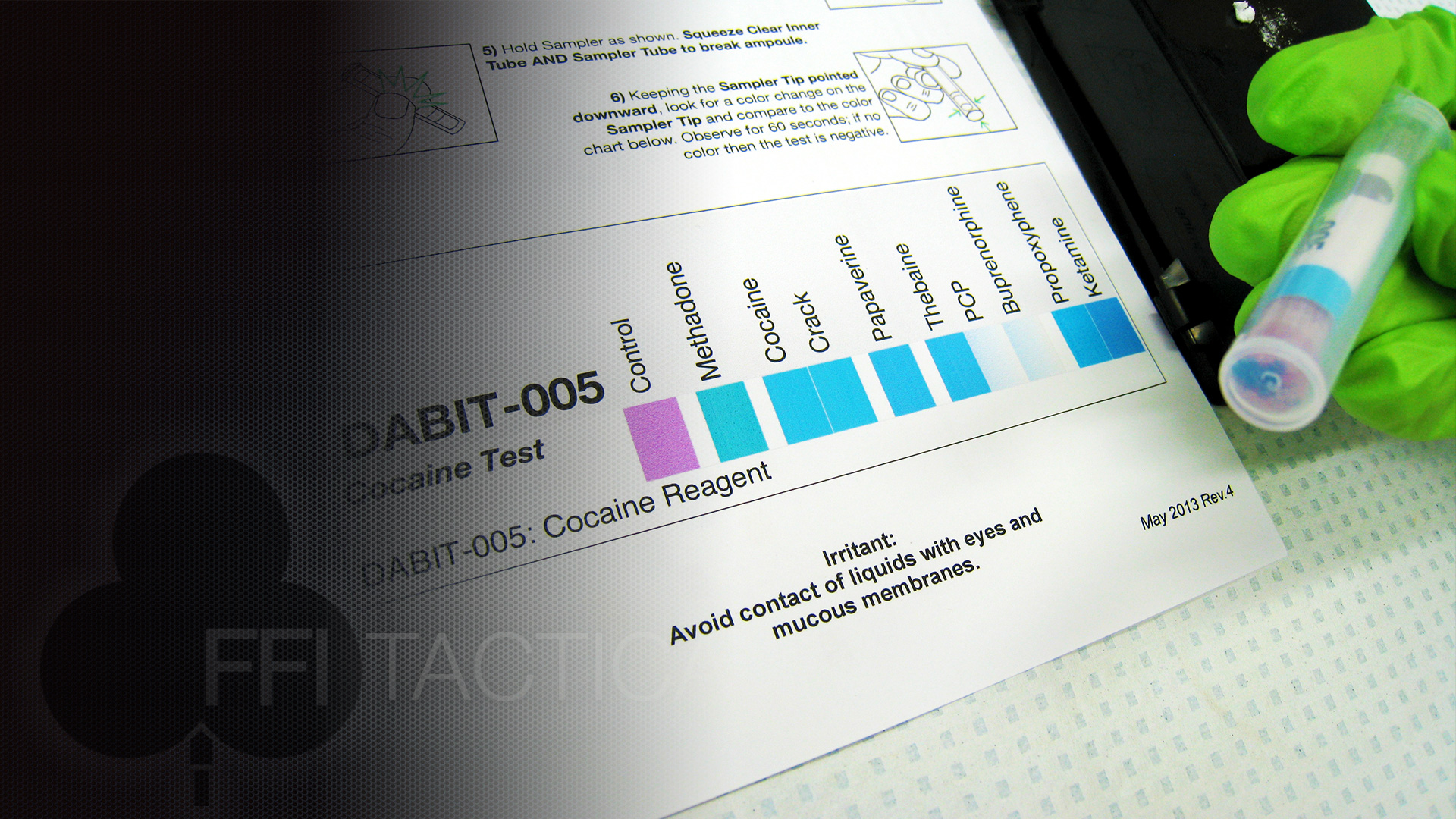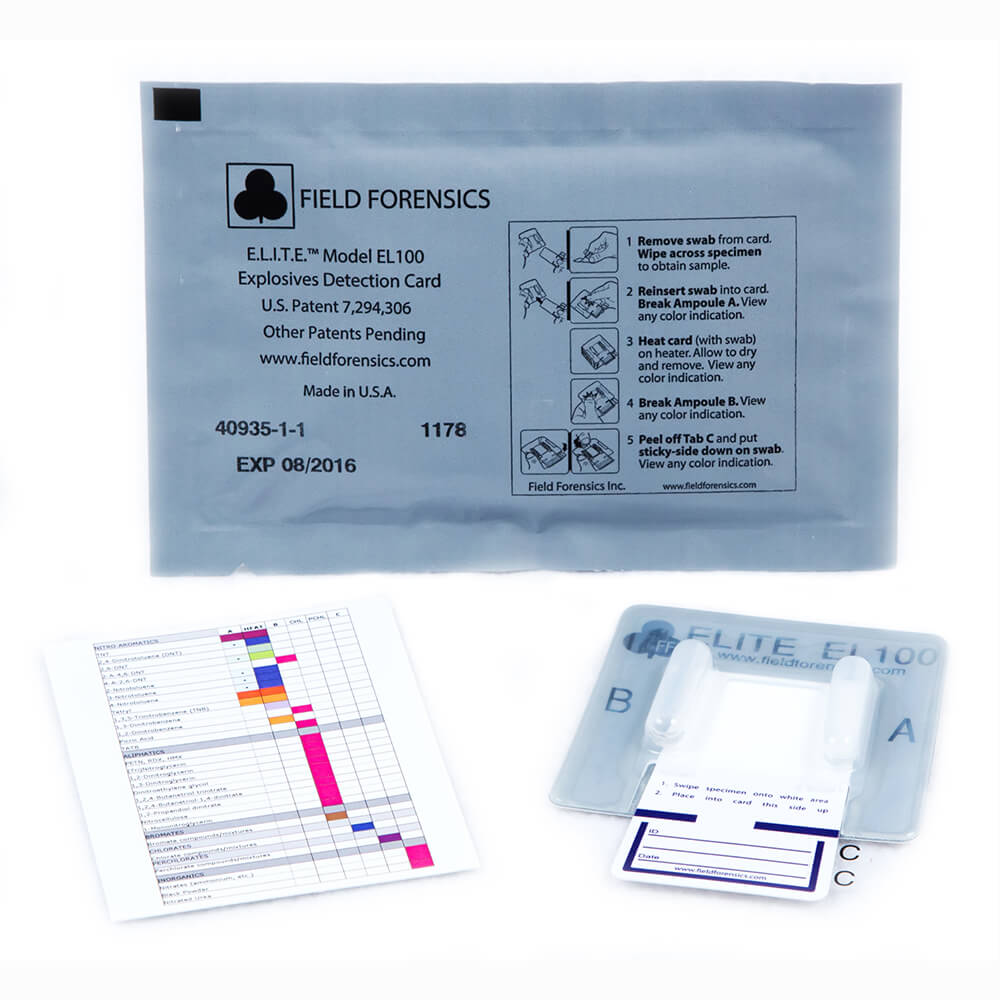 E.L.I.T.E.™ explosives detection kits are some of the most convenient test kits on the market. Each one is self contained and has a long shelf-life.  Users carry them in shirt pockets.   Though small, the kits each detect a broad range of commercial, military, and home-made explosives. They can detect at trace levels down to single nano gram amounts.     E.L.I.T.E.™ test kits are used by elite military, police, and security services worldwide.
E.L.I.T.E.™ colorimetric chemistry is unique, giving the user easily discernible colors and false-positive rates lower than other currently available test kits, instruments and even K-9s. There are no known false-negatives.
E.L.I.T.E.™ kits apply to a broad range of applications including checkpoint screening of people, vehicles and baggage, security spot-checks, forensic intelligence gathering and post-blast investigations.
E.L.I.T.E.™  doesn't require an instrument to read the result since a color change indicates a positive test.  The color chart is only for reference. A digital camera records the result, the kit serial number, date, time, GPS location and other information.
E.L.I.T.E.™ tests for peroxide, perchlorate and chlorate in liquid, vapor or solid form.  It even detects peroxide-based explosives such as TATP when the TATP is stored or hidden under alcohol.
Contact
At FFI Tactical we have consultants and advisors around the world, ready to help you with solutions for your security measures. Contact us to get a free quote.