Bomb Suits and Search Suits
Bomb Suits and Search Suits by Holdfast Systems
We are pleased to offer Berry Amendment-compliant PPE for de-mining, search, EOD and security teams. The FFI Tactical Series III & Series IV EOD Bomb Suits from Holdfast Systems have evolved over years of tests, development, and feedback from customers. Holdfast Systems has an active and intensive blast testing program that provides significant insight as to how the products perform. Historically, the EOD Suit design has fallen into one of two versions; either a suit with heavy protection but with restricted mobility or one with improved mobility but achieved at the expense of protection. The Series III and IV suits bridge this gap by providing the protection of a heavy bomb suit but the mobility of a tactical, lightweight suit.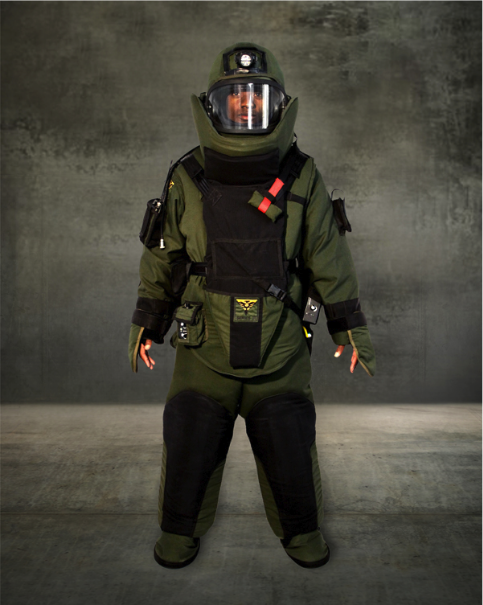 HFS EOD Suit Series III
The HFS SERIES III is the Holdfast workhorse in the EOD/IEDD suit range; it combines an ergonomic design with the best possible protection. The SERIES III is considered to be light and comfortable, providing a high degree of mobility. The suit includes:
EOD-suit-III
Trousers
Smock (jacket)
Integrated Groin Protector
Hand protectors and overshoes
External composite blast plates
Materials
Outer cover – Nomex® ( fire resistant)
Inner material – Aramid
Blast plates- Composites
V50 Ratings
Suit front – V50 600 + m/s
Suit rear – V50 450m/s
Suit with Blast plates – V0 +1800m/s
Weight Complete suit with blast plates – 26 kg (57.2 lb) Colors
Navy Blue
Olive Drab
Black
HFS MK III Search Suit with Ballistic Helmet and Visor
The latest development in the Holdfast Systems Search Suit range, the HFS MK III Search Suit is a versatile product with a updated Modular Design System. The Chest front and rear protection has been upgraded to NIJ level IIIA. A fully integrated Helmet System Flip up and Lock down feature this is a versatile suit which can be used as a mobile and lightweight EOD Suit. Consists of:
Trousers
Jacket
Sleeves
Ballistic Helmet with Visor
Lightweight composite Blast Plates
Materials:
Outer cover – Fire retardant treated polyester ripstop
Inner – Aramid
V50 and NIJ Ratings
V50 – Chest Front and Back, Collar 550m/s and NIJ level II
V50 – Rest of the suit 450m/s
V50 – Composite Blast Plates 1200m/s
Optional Ceramic up Armour Plates NIJ Level III or IV
Weight 17.5kg including Helmet and Visor Colors
Navy Blue
Olive Drab
Black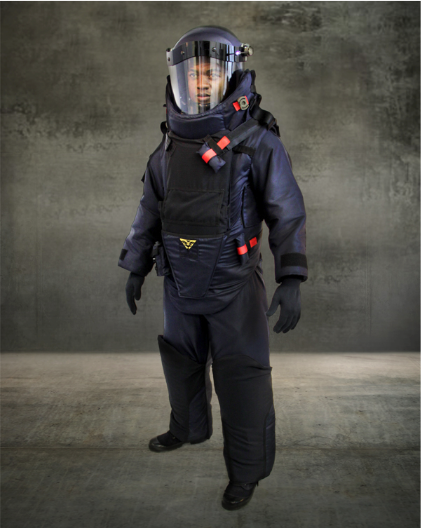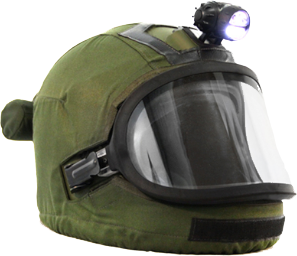 Series III EOD Helmet
The Series III EOD Helmet improves on its predecessor in a number of ways … Firstly there is a high-tech ventilation fan that still delivers superior airflow in to the helmet but greatly reduces vibration and noise levels. The Series III Helmet comes standard with a Kermel® comfort liner and spare with built in communications. This provides excellent comfort and cushioning for the head. The helmet has a 4 point adjustable Suspension System. The series III Helmet also comes standard with a higher protection level for the visor. The Series III Helmet has ambient sound amplification with high-level noise cut out. This helmet integrates with the SERIES III EOD Suit and electronic management system. Materials EOD-III-helmet Outer shell – moulded GRP Outer Cover – Nomex® Inner – Aramid laminate Ballistic Visor – Acrylic Polycarbonate V50 Ratings Helmet 630m/s Visor 800m/s Weight 4.5kg Colors Navy | Blue | Olive | Drab Features
Advanced Hardwire Communications System
Cooling Suit
Contact
At FFI Tactical we have consultants and advisors around the world, ready to help you with solutions for your security measures. Contact us to get a free quote.