All metal detection systems are not equal and FFI Tactical is proud to carry the best available, specializing in instrumentation that can be used in difficult environments, in the presence of high-metal "backgrounds" and for scanning soils that are not magnetically cooperative. FFIT provides ground and water equipment. EBINGER hand held and walk through metal detectors are since years synonymous for reliability and efficiency. They are widely used in airports, seaports, in public events and in prisons and correctional facilities, at public events and in law enforcement and security teams.

EB 607 – Wand for screening of persons on metal objects:
Versatile and Handy
Robust metal design

EB 610 C – General purpose metal detector for body search:
Ergonomic design
Easy to use
Dynamic/static operating modes
Optical/audio signal and control functions
Automatic calibration
In the field of security technology Ebinger hand-held metal detectors have been known for their reliability and quality for more than 35 years. At many airports in Germany and around the world they are to be seen everywhere at the security checks for passengers. Similarly they are in widespread use with the police, in courts and in corrections as well as at large-scale events as part of the general safety measures.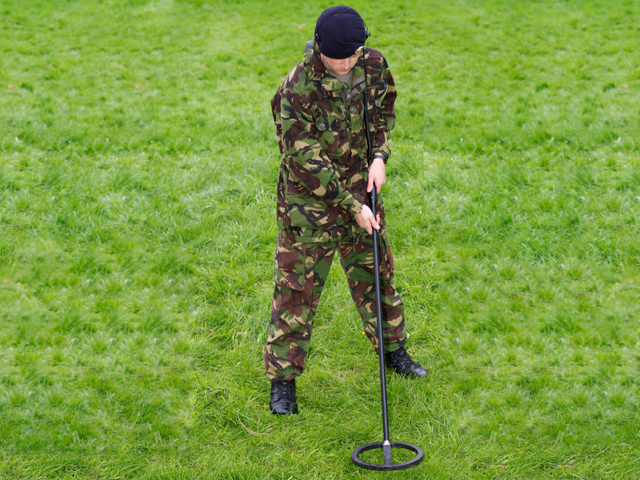 EBEX® 410 – Detector system for forensic police work:
Multi-component system for diverse detection applications
Dynamic operation mode
Very high detection sensitivity
Simple handling: single-button operation
Acoustic battery and activation control
Comprehensive range of accessories
The EBEX® 410 metal detector was developed especially for forensic police work purposes and it reflects the result of intensive co-operation with professional users. Typical applications include the examination of persons and postal items, use at detention centre and prison examinations, inspections of the fabric of buildings as well as open spaces and shallow water.
TREX® 204 – Metal detector with metal discrimination & ground compensation:
Ground compensation
Rugged design
Differentiation of small ferrous/non ferrous parts
Audio coded metal discrimination
Slim sensor probe
Differentiation of hot rocks, ore subsoil
The TREX® 204 is used in adverse working conditions such as in dense vegetation and on mineralized ground such as in the Australian Outback. The precise ground compensation, the audio coding for ferrous/non ferrous metal and the slim sensor probe are some of the exceptional characteristics of the TREX® 204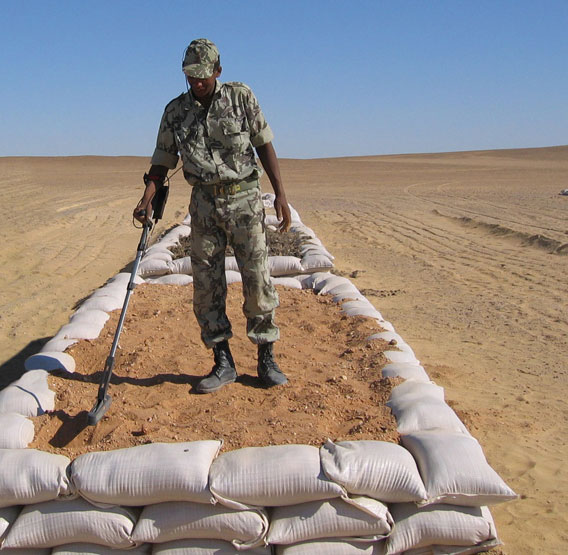 UPEX™ large-loop metal detection and TREX™ Active metal search detectors
UPEX® large loop metal detectors are world renowned. TREX™ and UWEX™ The continued pursuit of perfection is the reason for the success of the active EBINGER detection technology.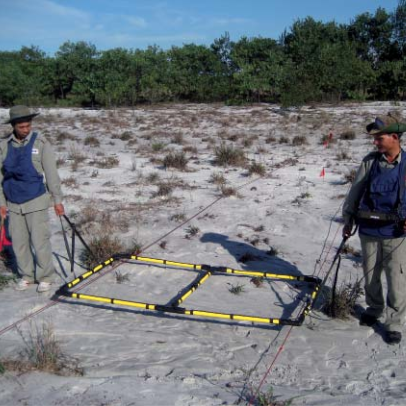 UPEX® 740 M – Large Loop metal locator for deep search of wide areas
High productivity
Simple to train and to operate
Option for digital surveys
The UPEX® 740 M PI large-loop detection system supports a fast search of large areas after metal objects of substantial size buried deep in the ground. Depending on the vegetation, areas of several  ha can be surveyed with one unit within one day. The UPEX® detects ferrous and non-ferrous metals as well as alloys
TREX® 150 – Active metal search system for deep search, fragment rejection
Supplements classical deep sounding systems
Optionally with digital data recording
Audio and optical display
The TREX® system makes use of two coils which are spatially separated from each other but in the same plane. An alternating current of definite frequency flows through the transmitter coil.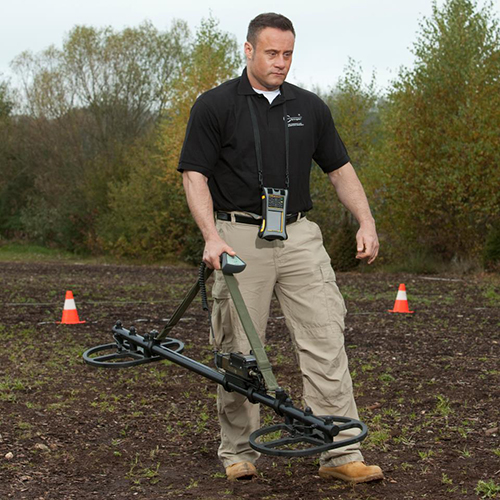 UWEX® Underwater Metal Detectors
UWEX® underwater metal detectors are world renowned and every day well proven in the hands of professional and hobby divers. The UWEX® models can operate in fresh- and saltwater due to their pulse induction operation principle. Already in the seventies EBINGER purchased the patent rights on the PI principle from eng. C. Colani and brought this technology to maturity. The continued pursuit of perfection is the reason for the success of the active EBINGER detection technology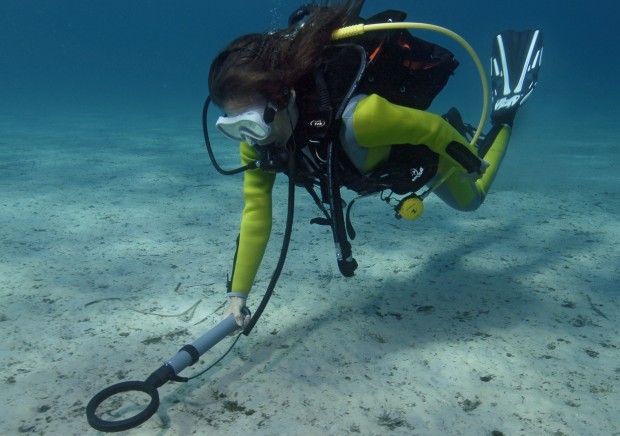 UWEX® 720 C – Underwater wand for divers, saltwater proof:
Compact design
Detects alloys, ferrous and non-ferrous metals
Easy to operate
Clear audio signals
Stable PI system
For fresh and saltwater
Despite its small size and search head this handy and simple-to-use underwater metal detector offers an impressive detection performance and outstanding resolution of small metal objects buried close to each other. The UWEX® 720 C detects ferrous and non-ferrous metals and alloys. The limits of detection range depend on the size, distance and kind of metal object to be detected.
UWEX® 722 C – PI- metal detector for divers, underwater & normal land use:
Compact design
For use underwater and on land
Detects all metals
Suppression of small objects and interference
Clear audio signals
Saltwater compatible
The UWEX® 722 C is a highly sensitive metal searching device for use underwater and on land. According to the detection job it can be operated in the short or in long version. It is pressure tested up to 60 m. Operating in saltwater will not interfere with the proper functioning of the device.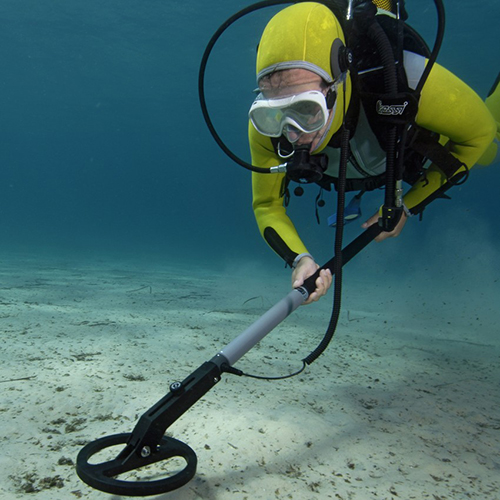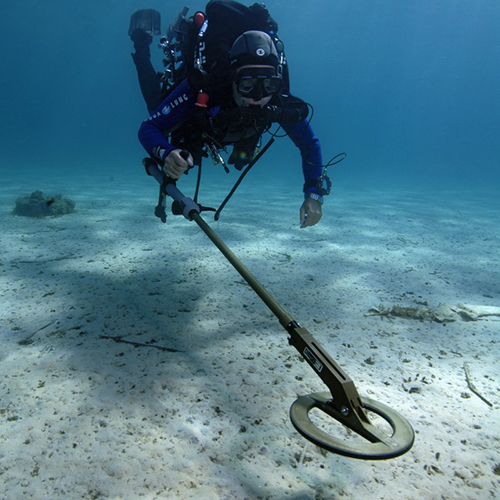 UWEX®725 K – Underwater PI-Search system, exchangeable search heads:
Sensitive, versatile underwater detection system
Foldable large search head
Various search heads
Modular design
Saltwater compatible
EBINGER metal detectors represent trend-setting technology, reliability and prime quality in the field of underwater metal detection. The UWEX®725 K represents the latest, most versatile underwater metal detection system. The search system can be offered in individual configurations to meet a wide range of customer needs in underwater search for objects with metal content.
UWEX® 725 DW – Underwater metal detector:
New EBINGER underwater PI System
Simple operation
Large detection range
Rugged design in industrial quality
For professional use
One knob operation
The proven UWEX® range is extended by the new UWEX® 725 DW, which meets the demand in professional detection tasks. The UWEX® 725 DW offers important advantages compared to conventional technique relieving the diver and improving productivity noticeably. Small scrap can be faded out electronically via various sampling delay steps.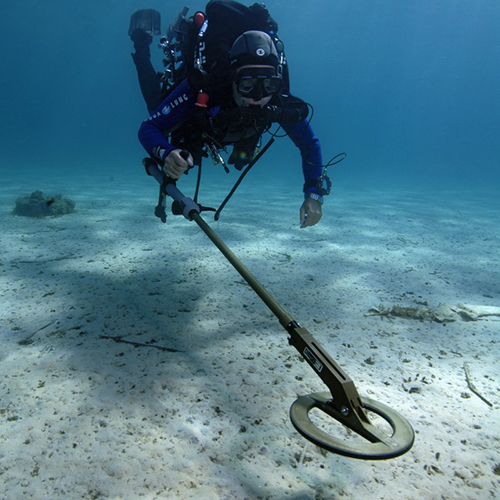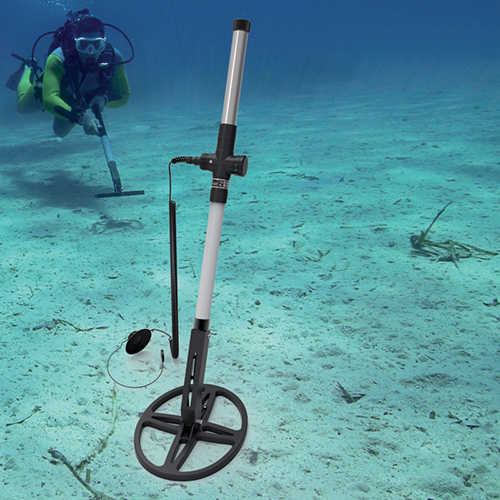 UWEX® 725 PA – Underwater wand for divers, saltwater proof:
Compact design
Audio and visual object information
Highly sensitive
Insensitive to interference
Detects all metals
Saltwater compatible
The UWEX® 725 PA works in accordance with the pulse induction principle whereby it provides acoustic object information. The index PA stands for Pulse Analyzing System. This analyzes and indicates the decay times or respectively the signature of the metal objects detected.
MAGNEX® 130 B – Underwater magnetometer for diver use
Ergonomic design
Robust and compact
Demountable
Optical / audio displaysSimple to use
3 detection stages: dynamic (Low) / quasi-static (Med) / static (High)
The MAGNEX® 130 B is a further development of its well proven forerunner. The search device is of compact modular design and lightweight. It is easy to operate and simple to learn. MAGNEX® 130 B is used to locate ferromagnetic objects buried underwater on or in the seabed. Typical targets are bombs, shell, mortars, sea mines, parts from ships or entire wrecks.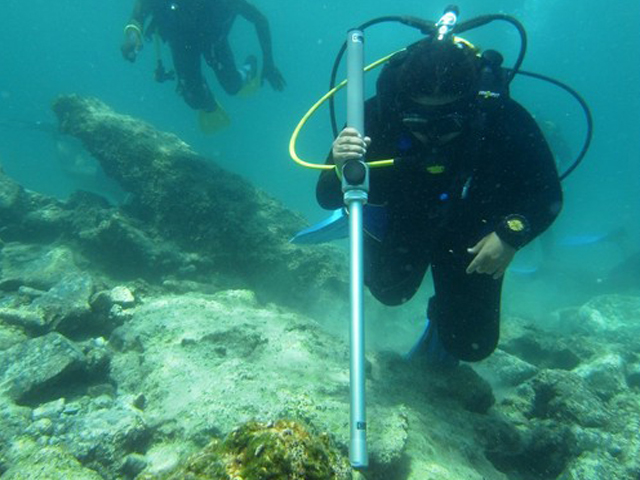 Humanitarian Mine Clearance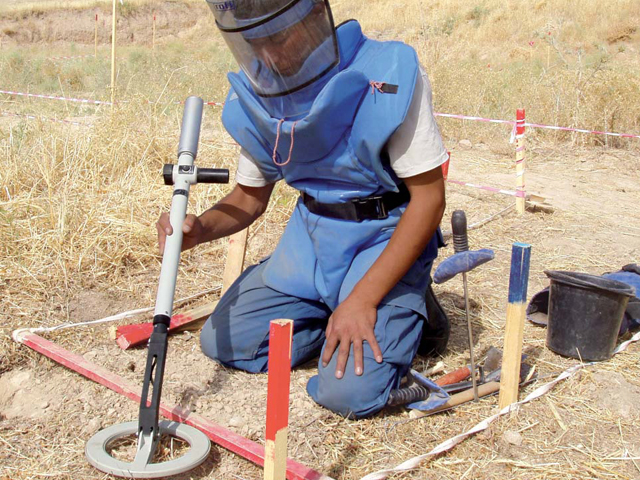 EBEX® 422 GC – Metal detector for humanitarian mine and battle area clearance:
Enhanced detection performance on minimum amounts of metal
High productivity
Reduced sensitivity to small metal fragments in BAC
Minimised operation cost
EBINGER detection equipment has proven its worth during many years of field use under adverse working conditions. Demining and bomb disposal technicians appreciate the extremely robust design and the good detection performance of the locators on minimum amount of metal mines or shallow buried UXO.
TREX® 204 M – Sensitive metal detector ground compensation, hockey stick type:
Slim probe, easier searching in rough terrains
Clear signals
Simple to operate High detection sensitivity
Ground compensation
Robust and lightweight
The TREX® 204 M is a modern variant of the EBINGER "hockey stick probe" that was first put to use for the detection of explosive ordnance 40 years ago. The new and further developed probe concept of the TREX® 204 M (as accredited by BH-MAC) permits a pinpoint location of metal objects, which are concealed in difficult to access or stony terrain, in furrows and trenches, channels or undergrowth.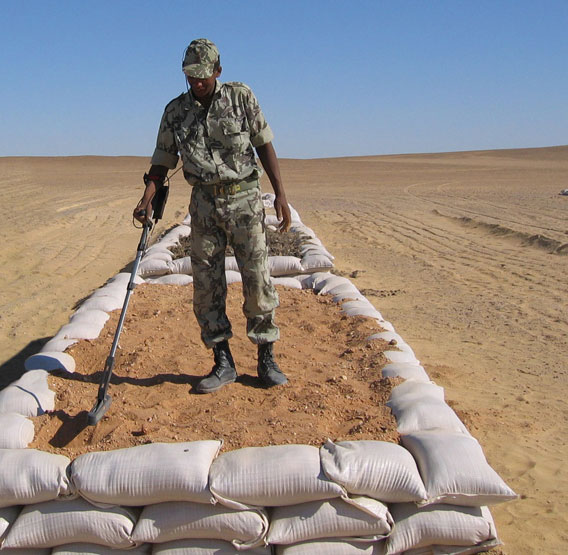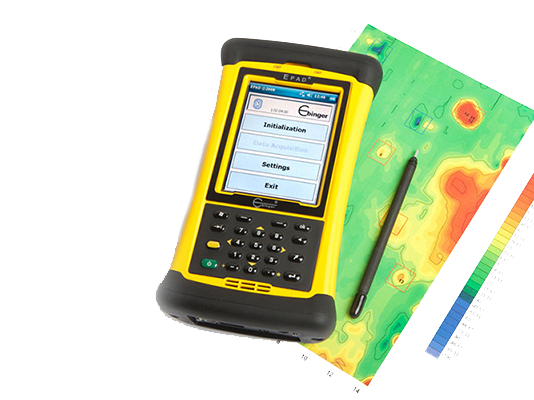 EPAD® / EPAS® Datalogger – Datalogger and software (for digital survey):
Multilingual rugged PDA-type data logger
DIN EN ISO 9000 compatible software
GPS – compatible
Display of recorded data, coordinates, detection results
Easy to use – basic & advanced user levels
Mobile Bluetooth-technology-based PDA data recording system for various sensor types with one to six recording channels. Data recording with real-time display. Ruggedised and waterproof version, suitable for all environments, complies with MIL-STD 810 requirements.
TREX® 210-3 system – Hand held metal detector for humanitarian mine action:
Compact, robust, handy
High detection sensitivity
High electrical stability
Ground compensation (GEB)
EBINGER metal detectors are world renowned and proven in the field of humanitarian mine action. The development of TREX® 210-3 is based on the awareness, that in case of cooperative and non-cooperative soils the CW operation offers specific advantages compared to the PI technique (measurements in time domain).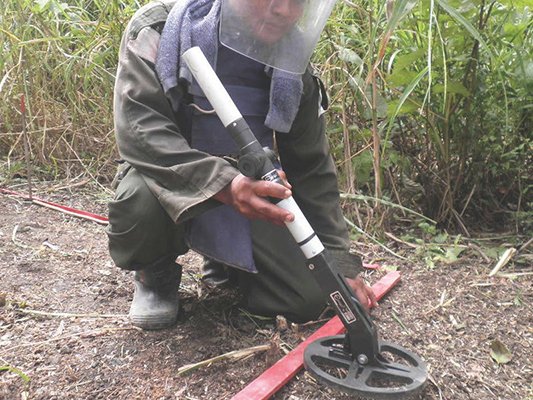 Contact
At FFI Tactical we have consultants and advisors around the world, ready to help you with solutions for your security measures. Contact us to get a free quote.